Over the last few seasons in the Championship I've seen how a good winger or two can really help a promotion push. Most people are under the impression that strikers are the key to promotion and where is some cases they are right, most of the time it's all about the service into them.
Routledge helps QPR out
Promoted 2010/11 Season:
Queens Park Rangers
- Although Taarabt had a very free role, alot of his goals came from cutting in off the wing. The aquisition of Wayne Routledge on loan in January also gave QPR a massive boost towards the finish line and scored some vital goals.
Norwich
- One of those cases where strikers (and a lot of late goals!) actually got them promoted. Grant Holt, Simeon Jackson and Chris Martin all had great seasons up front. Wes Hoolahan had a great season from midfield though.
Sinclair the key for Swans.
Swansea
- As much as I want to be bitter about it, Sinclair and Dyer were insanely good last season. Swansea struggled for goals in 2009/10 but by taking Sinclair onboard they managed to get the goals to take them up. It's no surprise they've continued their form into the Premier League by keeping hold of Sinclair and Dyer and also aquiring Wayne Routledge from Newcastle.
Special mention from 2010/11 has to go out to Jobi McAnuff (Reading) who in my opinion is the best winger in the Championship currently. His team-mate Jimmy Kebe also helped Reading to a playoff final which unfortunately they lost. *grumble*
Current Championship Season 2011/12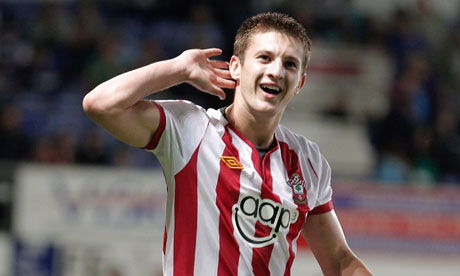 Lallana deserves all plaudits
Where do I begin? Southampton have Adam Lallana who like Taarabt has a bit of a free role. Lallana loves his crosses almost as much as a 17th Century vampire hunter and his build up play is exquisite. He also has the bonus of Rickie Lambert to aim for, who is surely related to the Green Giant from the sweetcorn adverts!
Burke lifts the Blues
Birmingham's surge in the league has been helped by the incredible form of Chris Burke. As all Cardiff fans will know, he can play on the left and he can play on the right..and sometime's he doesn't make Nikola Zigic look shite! Burke was a fan favourite at Cardiff and the passionate little Scot has certainly impressed at Birmingham, and I am happy for him!
McAnuff constantly impresses me.
Other Championship wingers
Matt Phillips (Blackpool) - tore Cardiff apart last week and despite not being part of Holloway's plans in the first half of the season, he could be key to their second half.
Jobi McAnuff (Reading) - Another former Cardiff man. When Reading play well, it's generally because of him. Has turned into a leader as well which is unusual for a winger, he does a very good Captain's job.
Robert Snodgrass (Leeds United) - Has impressed this season from the wing with 11 goals so far. I'm not a fan of his after he spat on Craig Bellamy last season.
The 'winging' feeling!
In summary, I'm not saying that you need a very good winger to win promotion but it's going to help your strikers if they have decent delivery from out wide and will massively help the team if they chip in a few goals too! Obviously for a winger it genereally helps if you have a big man to aim for in the middle but most teams need their wide men to be able to beat players as well.